Used 1987 Ferrari Testarossa Replica for sale in Canton, GA
Vehicle Description
This vehicle is a Replica of a 1987 Ferrari Testarossa. The body is perfectly mated to a stretched 1986 Pontiac Fierro GT frame. It has a 3.8L 3800 Supercharged Series III motor coupled to a Muncie 4 speed transmission. This is one of the best & last motors produced by GM in 2008. Perfectly fitted body panels, cut & polished paint. Custom interior & dash. All the amenities of a modern car including, brand new JVC Stereo & rear indicators & warning lights. The odometer is showing (18,711 km). Many thousands of dollars have been added to this car. Upgrades include Real Ferrari Testarossa Seats & Front Carello Marker indicator & directional lights. I have owned this car about 2 and a half years and have enjoyed and driven it many times. The front end was totally replaced along with brand new brakes and rotors & calipers when I purchased the car. A new radiator and heater core were also replaced. The car didn't need any of these items but I replaced them b/c I wanted to make sure everything was brand new. It also has stonegaurding applied to protect the paint from stone chips. It has all the correct decals & badges. A viper security system. Air conditioner blows very cold along with everything else. Car has a beautiful & powerful exhaust sound. The body lines are perfect. Power windows & door locks, tilt steering.The headlights are more modern designed more like a 512 TR. Pop-up molds are included in case you want to convert them to original appearance. You cannot find a replica that is as close to the real thing. If you don't like attention & people constantly taking photos & videos, then don't buy this car.

The prior owner had a professional appraisal that came in at $34,000. This was B/F all the upgrades were added to it. The car is located in Georgia. Can be picked up & driven by buyer or transported at buyers expense & scheduling. Forms of payment are a wire-transfer into sellers bank account, bank cashier's check, which must clear b/f the car is picked up or shipped. The sale is final and there will be no returns after the buyer purchases the car. No warranty, car is as is. Contact me only if you are presenting a serious offer.

Vehicle Details
Similar vehicles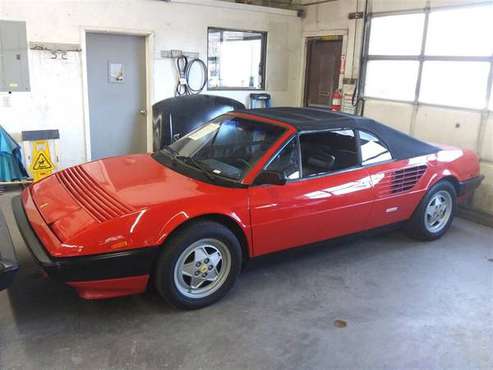 Recently viewed
2004 Maserati Spyder, Ferrari made engine in Florence, AL
Maserati Spyder,, v8, paddle shift, interior about 7, exterior 9, runs and drives, but it does have an issue with the F1 transmission, not sur...
1979 Ferrari 512 BB in San Carlos, CA
This one-of-a-kind 512BB was originally built by famed tuner Bob Norwood. The car was powered by an an 1100-hp Testarossa engine. It was featured o...