Used 1992 Eagle Talon TSI AWD 5-speed, 85k miles, all original never modded for sale in Pacific Grove, CA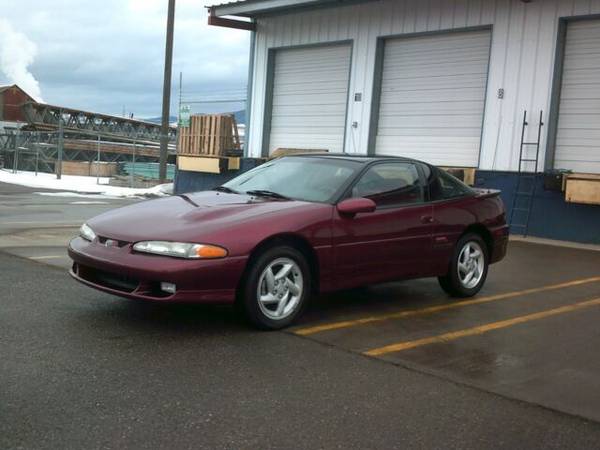 Vehicle Description
Hey everyone,

It's a sad day, but I'm going to have to put up my 92 Talon TSi that I purchased just a few months ago. Here are the basic details and story of the car:

***Asking Price is $7,000, I will take crypto/cash/ or wire transfer if you want to wait.***
Title is in hand, no loan or anything else. CLEAN title!!!!
-CARFAX available for serious buyers

-Purpose of sale: I just bought a JZX90 Mark II Tourer V and have to sell the DSM.
-The original owner passed away early 2019 and his son took over the vehicle. I purchased it as the "3rd owner" but in reality, his son just passed the title over. The dude was in his 60s and drove it to and from random places, since he was retired.

Pros:
-Original miles, 5 speed, and it DOES have the rear LSD option!
-No smoking, or any other issues
-I did a fresh oil change with mobil-1 synthetic when I got it.
-Strong battery which is constantly hooked up to a tender
-Tons of meat left on the tires, but they aren't anything sporty. Just normal all seasons.
-Car is ALL original, not a single modification done to it, inside or out. (yes that means original suspension, bushings, etc)
-New motor mount put on when the timing belt was done.
-New rear hatch shocks since they were toast when I got it.
-The timing belt, tensioners, water pump, balance shaft belt all changed before I purchased it, about 6 months ago. I thought there was a timing belt problem from some vibrations, but it turned out that idle sensor was bad, causing the car to run rough. I replaced that and the car is back amazing again! I have the number for the shop that did the repairs, plus the paperwork from him as well. He is a good dude and has worked on DSM's in the past (as well as owned 2 or 3 himself back in the day).
-No rot on it at all, I've been under it a few times and it's great
-Red interior! It's really sharp and I feel in love with the car because of it. The interior is in nearly mint shape as you can be. No rips, stains, holes, etc. Radio works fine, but it's no modern banger.

Cons:
-Clearcoat has issues on the hood, mirrors, and rear wing. The paint will have to be corrected for it to be 100%, there is no doubt about that
-A/C doesn't blow amazingly cold
-Random paint chips that were corrected by applying one of those Dr. Color chip type brush applications. I haven't done anything but wax the vehicle to help preserve the paint as is. It is currently stored undercover and hooked up to a battery tender.

This is your chance to pickup an ALL original, low owner, low miles, mint shape, 5 speed with LSD Talon. I highly doubt you'll find something in this shape and combo easily again!
Vehicle Details
Similar vehicles
Recently viewed