Used 2002 Mazda protega for sale in Albany, NY
Vehicle Description
2002 Mazda protege. New control arms, tie rod ends, brakes and ball joints. Was driving until I bought a newer vehicle. 5 peed. AC and heat work great. Comes with 4 studded snow tires and rims. Has 110,000 original miles. Great on gas.
Vehicle Details
Similar vehicles
1995 Mazda Protege in Washington, District Of Columbia
I have a 1995 Mazda Protege for sale. I bought it from a friend and have owned it for a little over a year, but I haven't been driving it much since I moved closer to downtown. The car still runs and drives, it's just a pretty old so it's not supe...
Recently viewed
Mazda in Tieton, WA
Well maintained, new tires, rotors plus brakes. Low miles for an 2003. Always stayed in town. Text me for more information 5o9 895 119two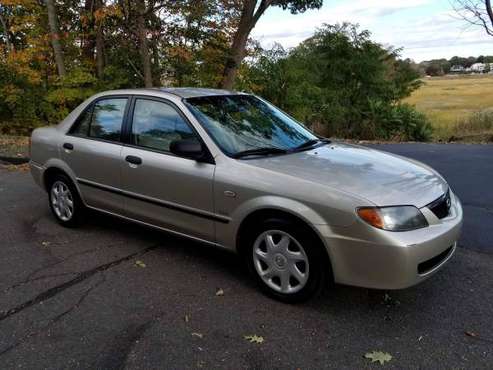 2002 Mazda Protege good contidion! in Springville, UT
I'm selling my wonderful car. I owned it since 2013. I just bought a new one and I need to sell as soon as possible. I'm leaving out of town and I would like to sell it today or tomorrow. Car runs really good. I just took it to the mechanic this m...
2002 Mazda Protegé in Roseburg, OR
2002 Mazda Protege Clean car, 32mpg Rebuilt motor and starter put in at 193,000 miles. Four doors, sun roof, ac, sub/amp, CD player. Clear coat is peeling off and needs new brakes tires and rotors. G...