Used 2004 f250 King ranch (lots of upgrades) for sale in Aberdeen, WA
Vehicle Description
Great running truck. Has all of the upgrades that you would do to a 6.0. (head studs, intake, exhaust, tuner, gauges, etc etc.) 6 inch lift. 2016 front end. 2005 dash, custom sound system. There are a few little trim items that are missing but this could be a bad ass looking truck with very little effort. I just don't have the time. I have drove it as is for years now, it could be finished or left the way it is.

It does have a salvaged title. but that was 7 years ago and it drives and tows perfect.

I am open to trades, especially a road or street glide.

Otherwise make me an offer.
Vehicle Details
Similar vehicles
Recently viewed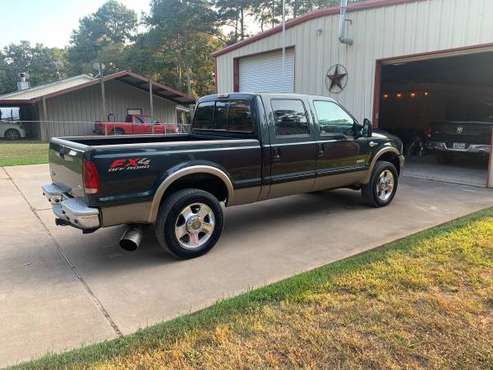 2006 f250 king ranch in Waller, TX
The truck is immaculate. Has all maintenance up to date, brand new injectors and glow plugs. It also has the egr delete and a 4 inch straight pipe ...
2014 F-150 King Ranch in Dayton, OR
Selling my f150 king ranch 3.5L Eco-Boost, upgrading and I don't need to have this anymore, in excellent condition and very well taken care of this...