Used 2006 Mack Granite CT713, Mack AI400 Engine, 400HP, 415,028 Miles for sale in Wheat Ridge, CO
Vehicle Description
DTI Trucks address: 8955 West 44th Avenue Wheat Ridge CO, 80033
phone: ☎ (970) 364-1615
link:
contact: DTI Trucks And Ask For Sales 2006 MACK GRANITE CT713, MACK AI400 ENGINE, 400HP, 415,028 MILES Notes from the Dealer Visit Our Website At www.DTItrucks.com Vehicle Info
Stock # : 12317
Condition : Used
Odometer : 415028
Description 2006 Mack Granite CT713, Mack AI400 Engine, 400HP, 415,028 Miles, 56K GVWR, 18/38, Maxi-torque 13 Speed Transmission, Axle Lock, Jakes, Steel Wheels, 315-80R22.5 Steers, 11R22.5 Drives, 249" WB, 189" CTA, Spring Suspension, Dual 100 Gallons Diesel Fuel Tanks, Air Brakes, Single Vertical Exhaust, A/C, Tilt Steering, AM/FM/CD Radio, Block Heater, Cruise Control, Manual Locks & Windows, Air-Ride Drivers Seat & Fixed Passenger, 22' Wood Flatbed With Rear Moffet Mounts, Single Frame, 4.17 Ratio. This Tandem Axle Flatbed Is Located @ 68th & Washington, Denver, CO. Stock #12317D DTI Trucks address: 8955 West 44th Avenue Wheat Ridge CO, 80033
phone: ☎ (970) 364-1615
link:
contact: DTI Trucks And Ask For Sales Disclaimer Financing Options Available! Ask Us If The Truck You Are Interested In Qualifies For Our Third Party Warranty Program!
Vehicle Details
Similar vehicles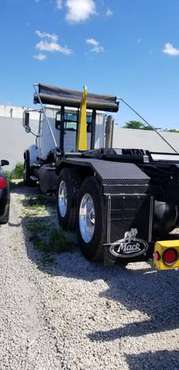 Recently viewed