Used 2015 FIAT 500 Sport *LOW MILES 32K* for sale in Waterloo, IA
Vehicle Description

2015 *** Fiat 500 2dr HB Sport Coupe *** Drive it home today. Call us now !!
Call ☏ (319) 505−2116 E&A Motors INC
4037 University Ave, Waterloo, IA 50701

Copy & Paste the URL below
to view more information!

Year : 2015
Make : Fiat
Model : 500
Trim : 2dr HB Sport
Mileage : 32,967 miles
Transmission : Manual
Exterior Color : Green
Series : 2dr HB Sport Coupe
Drivetrain : FWD
Condition : Good
VIN : 3C3CFFBRXFT690009
Stock ID : 690009
Engine : 1.4L

Optional Equipment of this Fiat 500 2dr HB Sport Call US AT (319) 505−2116 to get the full list of optional equipment on this vehicle.

Call (319) 505−2116 for quick answers to your questions about this Fiat 500 2dr HB Sport.

✅ FOR MORE OF OUR ADS ON CRAIGSLIST, CHECK OUT THIS PAGE :
***** Fiat 500 2dr HB Sport Coupe *****
Disclaimer : Business Hours
Monday-Friday 9am-6pm
Saturday 9am-3pm
FINANCING NOW AVAILABLE. LOCAL BANKS AND CREDIT UNIONS WITH ULTRA LOW INTEREST RATES FOR PEOPLE WITH GOOD CREDIT. ALL CREDIT APPLICATIONS WILL BE ACCEPTED. CONTACT Adis or Kenny AT E AND A MOTORS OR CLICK HERE IT'S JUST THAT EASY.
Plus Tax Licence and registration and documentation fee.
Drive it home today. Call us now !!
Call ☏ (319) 505−2116 E&A Motors INC
4037 University Ave, Waterloo, IA 50701

Copy & Paste the URL below
to view more information!
2015 15 * Fiat * * 500 * *Cheap 2dr HB Sport * *Like New 2015 2dr HB Sport Coupe* *1.4L* *Must See 2015 Fiat 500 2dr HB Sport Gasoline - 2015 Fiat 500 500 500 2dr HB Sport Gasoline Coupe Cheap - 2015 Fiat 500 ( 2dr HB Sport ) Carfax Gasoline 1.4L - 2015 Fiat 500 2dr HB Sport Coupe 1.4L Gasoline - Fiat 500 2dr HB Sport Coupe *SCHEDULE YOUR TEST DRIVE 2015 Fiat 500 1.4L 2dr HB Sport Gasoline Coupe* * Fiat * * 500 * 2015 Fiat 500 2dr HB Sport Gasoline Coupe *2015 Fiat 500 2dr HB Sport *E&A Motors INC* *Call us today at (319) 505−2116.* 2016 Fiat 500 2dr HB Sport 1.4L - Have you seen this 2017 Fiat 500 2dr HB Sport Coupe ? Must See 2018 Fiat 500 2dr HB Sport Gasoline Coupe *For Sale 500 * * 500 * *Carfax 2dr HB Sport Gasoline Coupe Come test drive this amazing * Fiat * * 500 * *( 2DR HB SPORT )* *Gasoline* Coupe 2dr HB Sport Coupe Gasoline Coupe Gasoline* *( Fiat )* *( 500 )* * 2dr HB Sport * *1.4L* *(GASOLINE)* *Bad Credit* *Gasoline* *Coupe* *Super Vehicle Gasoline Call this number (319) 505−2116* *1.4L* *E&A Motors INC* * Good Credit* 2015 2014 2013 2012 *This vehicle is a used Fiat 500 * *No Credit* *It is like New 2dr HB Sport * *1.4L Gasoline*

Vehicle Details
Similar vehicles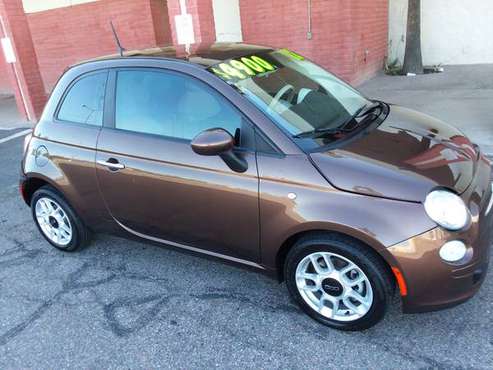 2012 fiat 500 pop - lowlow miles 51k miles $3600 cash in Mesa, AZ
2012 fiat 500 pop - low low 51000 miles , clean title , new emissions , automatic , cold ac , tint , really nice wheels and tires , lots of little nicks dents and scratches , runs and drives great , reduced today 3600 cash clean title 51k miles , ...
2015 Fiat 500 in Harriman, TN
I have for sale a 2015 Fiat 500. This stylish subcompact is a blast to drive and great on gas (41 mpg highway) thanks to its 1.4l multi-air 4cyl engine and automatic transmission. The car is very stylish and clean "very Italian" like your favorite...
Recently viewed
2012 Fiat 500 49K Miles in Del Mar, CA
Clean title,Only 49K Miles,interior and exterior is very clean,automatic Smog passed recently, transmission,Bluetooth,runs and drives great,gas saver,cash only
2012 Fiat 500 Pop in Fort Lauderdale, FL
2012 Fiat 500 Pop / One owner Clean Title- 3C3CFFAR7CT362334 Check out the YouTube link video below 32,400 Miles, 5 spd manual with Up-Hill Assist and Cruise control, key-fob Keyless entry, power doors and windows,...
2012 Fiat 500 sport in Alexandria Bay, NY
Clean Fiat 500 sport. 5 speed and awesome to drive. Great in the snow and lots of features! Leather seats Low miles 65k Good tires Spacious for its size Great on gas Hill start assist Sport mode (faster acceler...
2015 FIAT 500 Sport *LOW MILES 32K* in Waterloo, IA
2015 *** Fiat 500 2dr HB Sport Coupe *** Drive it home today. Call us now !! Call ☏ (319) 505−2116 E&A Motors INC 4037 University Ave, Waterloo, IA 50701 Copy & Paste the URL below to view more information! Year :...